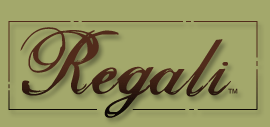 Start your new career today - Call to become a Regali Representative!

Enjoy jewelry discounts and earn additional rewards
Run your own business and enjoy a rewarding career
Set your own hours so you can spend more quality time with your family or other interests
Call us today on 1.888.9REGALI or fill out the form below to get started on your new career today!
See below for more information.
Representative Application Form
More about Regali
Regali is an innovative jewelry company located in Northern Virginia. Prints Charming, our first product line, features one-of-a-kind, custom jewelry made from the fingerprints of the special people in your life. Our second line, Whimsy, features charms with iconic symbols, such as hearts, shamrocks, crosses, and a dog bone, to accent our Prints Charming line or to stand alone.
Regali's Prints Charming collection of priceless, heirloom-quality pieces include necklaces, bracelets, and earrings. Each unique charm is 99.9% pure silver, while all chains and clasps are Sterling silver. Each piece features a Swarovski crystal or silver mini accent charm. Charms are available in either a shiny or patina finish.

Sales Representative Frequently Asked Questions
What is the Regali sales representative compensation package?
You will earn 25 percent of the retail value of the jewelry sold at your qualified parties. This number excludes any hostess discounted purchases and hostess bonuses. Commission is processed monthly.
Regali sales representatives that recruit other sales reps receive 2% of their recruits' wholesale (retail-commission) sales. Additionally, after your recruit has held her first 3 qualified parties, you will receive a $100 bonus check.
You earn bonuses based on annual sales above $15,000.

A qualified party is one where at least 5 people buy something, and the party sales must be at least $500. This could be an in-home party or a catalog party.

What are the Regali sales requirements?
For the first year, we want our Regali Sales Reps to concentrate on making sales and building their downline (Sales Reps they recruit). It's important to focus on learning all about the business and making sure customers are happy without the pressures of deliverables. We expect you to active sell Regali jewelry, but there are no minimums.
Starting during a Sales Rep's second year, Regali requires every active Sales Rep to hold at least 1 qualified party per month (remember, this is a party with at least 5 distinct sales that total at least $500). You must post sales of $2,500 per quarter.
All sales are sent on to Regali for processing. We send the Impression Kits directly to the customer. Once all the pieces are complete, we send them back to you or your Hostess for distribution.

Am I required to purchase product samples?
Each Regali Sales Rep is provided with a Loaner Sample Kit, which includes photos of the jewelry, samples of each chain, 2 necklaces, and 1 bracelet. At start-up you can also purchase 1 item at a 30% discount. The Loaner Kit necklaces and bracelet are yours to use for 12 months, until you have purchased your own personal samples. With each qualifying party you hold you earn the right to purchase 1 sample at a 30% discount from retail. These sample purchases do not count toward your quarterly sales requirement.

Do you provide product brochures, order forms, silver cloths, etc.?
We print all literature and order silver cleaning cloths. Your first package of literature is provided to you with your Sample Kit. Additional literature can be earned at a rate of a percentage of your retail sales credited to you toward the purchase of literature. You only pay shipping. Your Literature Credits expire 12 months from the date they are earned. A Silver Cleaning Cloth with the Regali logo is given to each customer. We are able to purchase large quantities at once and pass the savings along to you. We sell them to you at our cost. We also have Regali pens that you can order, again at our cost.